The displacement and breakdown of social structures that are results of flight from war and conflict challenge traditional gender relations, social norms and ties, making refugees vulnerable to further violence and discrimination. Studies show that displaced women and girls have faced multiple forms of violence as a result of conflict, persecution and displacement. Additionally, men and boys suffer violence in countries of crisis and asylum, especially at the hands of men. FOMEN, therefore, deals with the issue of how these experiences collide with gender norms, with a strong focus on diverse concepts of masculinity.
FOMEN focuses on innovative approaches to preventing gender-based violence among male migrants. The project runs from September 2019 until December 2021, based in 6 EU countries. FOMEN develops quality standards for violence-prevention programmes based on the work with male refugees and migrants, involving experts in workshops, and works with both primary and secondary prevention methods. National capacity building trainings with professionals experienced in gender/masculinity, migration/intercultural education and violence prevention, provide professionals with knowledge and the chance to discuss approaches and to highlight the most critical needs, while education workshops provide refugees and migrants with insights on gender issues and national awareness events sensitize wider audiences. National and transnational reports, educational curricula, toolkits and quality manuals provide research and analysis.
An insight into the gendered impacts of the refugee crisis in Europe.
To develop gender-sensitive prevention services.
To improve existing services.
To address the fact that migration can create conflict between knowledge related to gender-based violence.
To improve the health and well-being of victims through a greater awareness of handling emotions and building social relations.
Violence prevention.
To highlight to the public, as well as local/national authorities, the need for a gender-sensitive approach to violence prevention.
To improve the cross-over between migration/intercultural education.
Improvement of health and well-being of victims of gender-based violence through a greater awareness of: how to handle emotions and build social relations; gender equality; women's and children's rights.
Learning through shared experiences.
Strengthening the process of social inclusion and cohesion in the EU.
Effective violence prevention among the marginalised, but highly important, group of male migrants and refugees.
An exchange of best practice approaches in gender-reflective violence prevention.
Direct interaction with 180-240 male migrants and an influence on the social environments of the participating men.
A critical reflection of traditional men's roles.
Authorities involved in FOMEN will gain deeper knowledge, recent data, learn new approaches and methods of intervention and deepen their field related networks.
Contributing to an academic understanding of intersectionality and gender-based violence as well as providing new data on the matter.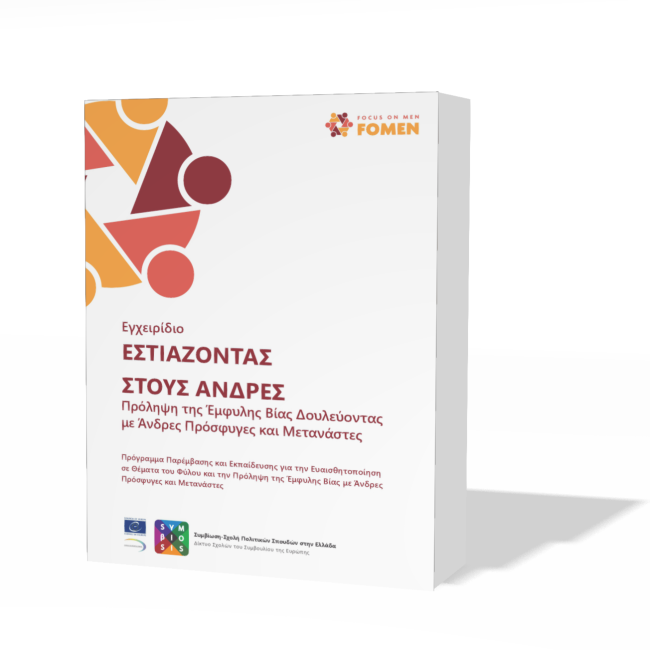 Intervention and Education Program on Gender Sensitization and Gender Based Violence Prevention with Male Migrants and Refugees
With this manual we present a practice-oriented guide for facilitators on the implementation of intervention and education programs to provide gender-sensitive prevention services. It was developed within the framework of the European project FOMEN: Focus on Men. Gender…